By CBDvapemall |
06
July 2020 |
0
Comments
DABCOOL W3 Electric Dab Straw VS Huni Badger Electric Nectar Collector
The Electric Nectar Collector is a new trend to consume concentrate vaping style, more and more electric dab straw for choose on the market, so what is the best electric nectar collector pen of 2020? here to introduce Exseed DABCOOL W3 & Huni Badger dab kit.

The DABCOOL W3 is a new Electric honey straw kit(called as nectar collector) for dabbing concentrate, combine dab rigs and wax vape pen function,replacement ceramic coil dab tips, you can get excellent vaping experience.
DABCOOL W3 electric dab straw kit Features:
. Built-in 450mAh capacity battery,rechargeable
. Combine dab rigs and wax vape pen function
. Ceramic coil tips,replacement
. Varilable voltage:3.4v-3.7v-4.2v
. Low voltage protection,short circuit protection
. Easy to use and easy to cleaning

Dabcool W3 dab kit packaging list:
1 x Electric dab straw device
1 x Charging cable
1 x Silicone box
2 x Atomizer coil tips
1 x Manual
1 x Gift box
(MSRP:$59.99)
The Huni Badger Electric Nectar Collector Kit combines the worlds best portable vertical vaporizer with the most refined Nectar Collector diffusion technology. With a heat time of a mere 10 seconds, this little animal eliminates the need for a torch and delivers tasty consistent dabs from tiny sips to giant rips in a convenient, durable package. When combined with proven Nectar Collector spillproof water diffusion technology the Huni Badger is unstoppable. Just as in nature this symbiotic pair work together to devour nectar wherever they find it.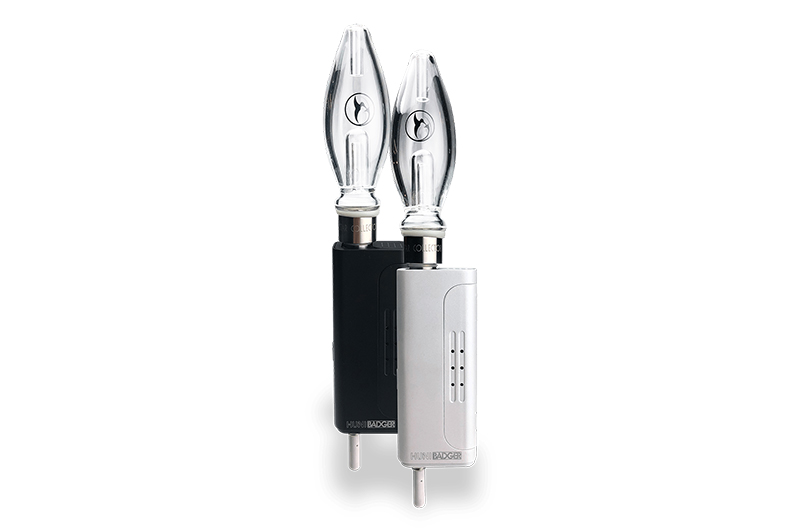 The Huni Badger Electric Nectar Collector Kit includes:
1 x Huni Badger Unit
1 x Nectar Collector Honeybird Core
1 x Huni Badger Nectar Connector
2 x HOHM High Drain 18650 Battery
1 x Blackcell 2A battery charger
1 x Waterproof Hard Case
1 x HBNC Foam Insert Upgrade
1 x High Temp HuniTip (installed)
1 x Low Temp HuniTip
1 x 510 eGo Adapter
1 x 14mm Adapter
3 x HuniPot Extract Containers(One stored in magnetic cap)
3 x Pipe Cleaners
2 x Replacement O-rings
1 x User Manual
(MSRP:$239.99)
Leave a Reply
Your email address will not be published.Required fields are marked. *